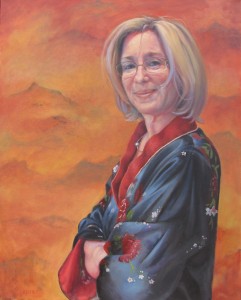 Nothing in the universe is more amazing than life and human life is the most amazing of all.To create a lasting memory of a person,place and time is one reason I paint. Finding a way to express that wonder with color and composition in oil paint is the challenge and joy of painting.
A painting is a collaboration between the subject and the artist that will last for generations.
                         PROCEDURE
1. Initial consultation to discuss number of subjects,mood,setting,and size of portrait.
2. Signing of an agreement and a down payment of %25.
3. Photo session usually about an hour.
4. Artist chooses possible photos for portrait and reaches a decision with client.
5.  Completion of portrait takes about two months or more depending on size and complexity of background.
6.  On approval and delivery of final painting balance is due.
Any travel, shipping, framing or applicable sales tax is additional